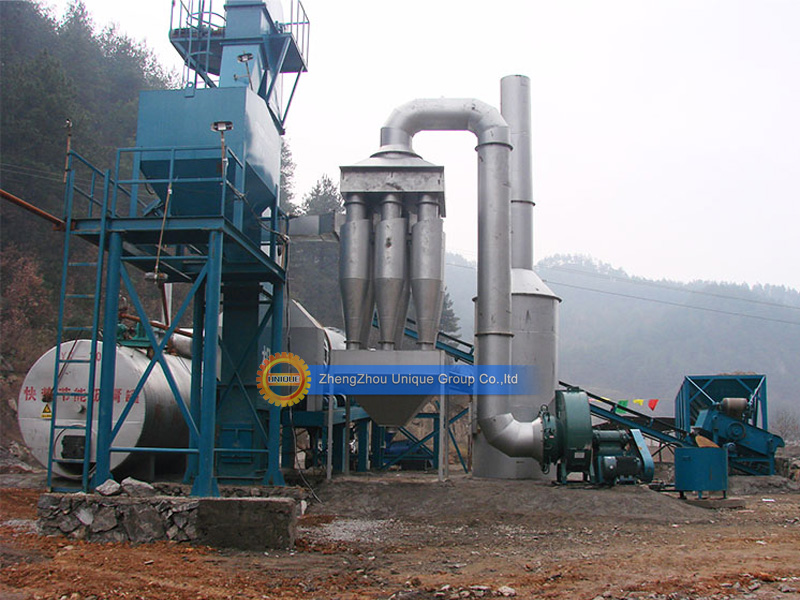 The drying system and mixing system for drum mix asphalt plant:
1, The drying drum is equipped with support rollers, support wheels, drive roller, anti-offset wheels, cylinder and copy board. The dry support rolling ring and the support wheel support the drying drum, and the motor with the reducer rotates to drive the rolling ring, thereby driving the drum to rotate stably and evenly.
2, After the cold aggregate enters the drying drum, the copy board will carry it to the apex and then drop to form a curtain. The flame of the burner will pass through the curtain to heat the cold aggregate and remove moisture;
3, Drying drum with insulation layer to reduce heat loss, save fuel and save money.
The control system of asphalt drum mix plant:
1, Adopts PLC control system, which is easy to control;
2, The control system adopts manual and semi-automatic control, with high degree of automation, saving manpower and operating costs;
3, The main motor current value and frequency value, finished material and cold aggregate temperature are arranged on the operation table; the operation is convenient and intuitive.
The dust removal system for asphalt drum mix plant:
1, The dust removal effect is better, the dust emission is small, and it is more environmentally friendly;
2, Kinds of dust removal methods for customers to choose freely.
For someone interested in the asphalt mixing plant, welcome to inquiry us!
Website: https://www.unique-cons.com
Email: sales@unique-cons.com Whatsapp:+86 15538259609