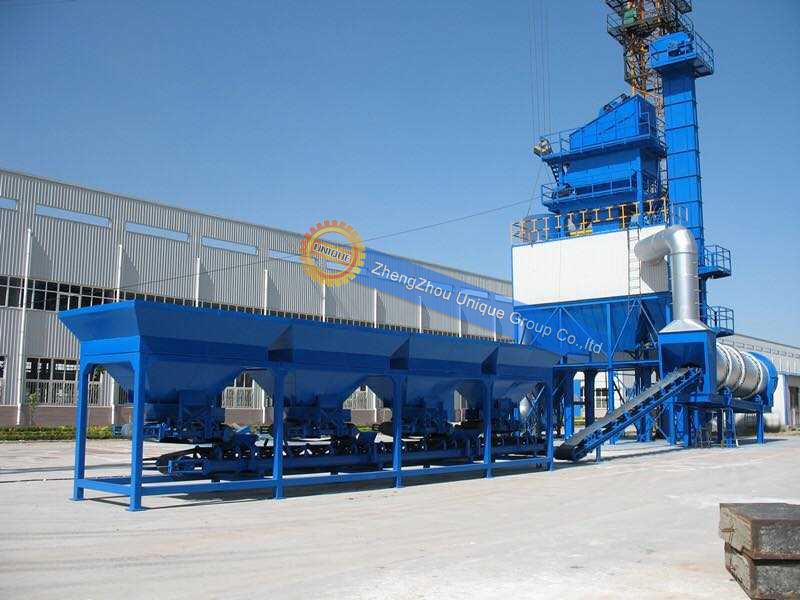 Now let's learn the working progress of the asphalt mixing plant.
Firstly, the aggregate is hauled from the storage piles and placed in the appropriate hoppers of the cold feed unit. The material is metered from the hoppers by belt conveyor belt to a screen to screen out the oversize aggregates, then conveyed into a rotary dryer (typically gas or oil-fired) to dry the water inside aggregate and blow the dust and mud away from the aggregate.
As the hot aggregate leaves the dryer, it drops into a bucket elevator and is transferred to another vibrating screens, which is located on the top of the plant, it is classified into four different grades (sizes) and is dropped into individual "hot" bins according to size. The different aggregates are weighted according to the formula preset and discharge into the concrete mixer, at the same time, the cement and liquid bitumen is weighted according to the formula and discharge into the mixer. In this step all the materials are mixed together.
Then the hot mix is conveyed to a hot storage silo or is dropped directly into a truck and hauled to the job site.
Welcome to contact us if you need asphalt mixing plant.
Website:http://www.asphalt-cons.com
Email: sales@unique-cons.com
Whatsapp:+86 15538259609